The Boadicea of Britannia Street by Ade Morris - Postponed
 - a full length, contemporary comedy with an all-female cast of four women. In short, it's a funny and very touching play about female friendship. This comedy has a lovely warmth to it, as well as humour and pathos, with plenty of laughs along the way to keep an audience entertained.
Synopsis
The play centres on Fran Lamb, a widow, cat-lover, poet and writer for the local paper who decides to start her own creative writing group in the local village hall. It attracts panicked PE teacher Penny (who hates children but finds herself pregnant after a brief affair with the Head of Maths), nervous housewife Annie (whose mysterious anxiety causes her to substitute the wrong words for the correct ones), and Janet, the delightfully shy, retiring and bespectacled librarian. 
As the story progresses, we see the women sharing their secrets with the group, gaining confidence and flowering while their leader fades away, giving us a mixture of hope and sadness by the end.
Grange Hall, Postponed until Tuesday 15th to Saturday 19th February 2022
Performances will start promptly at 7.30 pm - the doors and bar open at 6.30 pm.
To find the venue:-
Grange Hall,
Vicarage Lane
NG12 2FB
Radcliffe-on-Trent
Nottinghamshire
(see map by clicking on the Contact button above)
All tickets are priced just £9, except for Tuesday when it's £8 (ticket price includes a programme & a coffee or tea in the interval).

Please note tickets are non-refundable

A standard fee of 10% will be charged when you purchase your tickets on-line via TicketSource,
using either a credit or debit card (see below)
Tickets will be available later this year from:
TicketSource
You can order your tickets on line using this link 
Click on this 'ticket' to buy your tickets.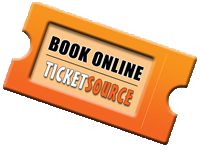 or from Pen2Paper, Main Road, Radcliffe-on-Trent
or from our ticket secretary on 0115 933 2906, or any Group member.
If you need to contact the ticket secretary you can do so using this link ticket secretary
Mailing List
If you would like to join our regular mailing list to find out which play we are going to perform next and to have the option to buy your tickets early, please contact our ticket secretary on 0115 933 2906 or e-mail ticket secretary